We recommend you discover a new self with VAASTU(Indian Feng shui)which is the knowledge of environment and consciousness aiming at enhancement of life energy and expansion of consciousness.

HIMALAYAHOUSE® does product

(things)

design and coordination by ' Kūkan Healing '
― environment creation in

the theme of spiritually and materially prosperous and healthy living space

.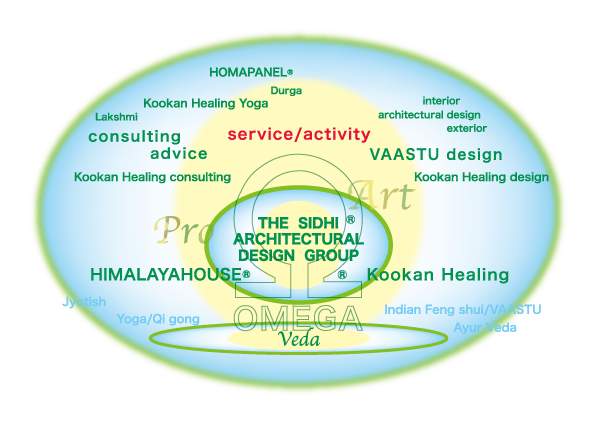 As the environment creation consulting bearing the brand name

Ω/OMEGA®

,
THE SIDHI ARCHITECTURAL DESIGN GROUP®
provides advice and service based on environmental architecture

VAASTU SHASTRA
which is a branch of the profound knowledge

Veda

.
Using ' Kūkan Healing ' Art

&
Creating environments by ' Kūkan Healing ' design including
Learning 空間ヒーリングヨーガ® Ω®
/ ' Kūkan Healing ' Yoga / ' Kūkan Healing ' Yoga is yoga aiming at environmental improvement
(we describe 空間ヒーリングヨーガ® as ' Kūkan Healing ' Yoga in this site)
support leading you to the artistic world view
equal to practice of yoga and Qigong,
and occasionally even support the removal of curses and wraiths.
This is the total coordination system to pursue comfort and design sophistication.
There, you may find yourself full of harmony by being in love with every environment.
growth of consciousness = path toward enlightenment
' Kūkan Healing ' of HIMALAYAHOUSE makes social contributions through

環境の転生®

/ Kankyou no Tensei / Kankyou no Tensei means environmental rebirth in Japanese
(we describe 環境の転生® as Environmental Rebirth in this site)

― changing all the society for better environment

with public natures.
We will be very happy for you to use ' Kūkan Healing ' , the VAASTU(VASTU)wisdom.
Successful people are together with the profound knowledge of Veda
to the true victors
NEW!


We just posted an article about Creating Homes 2, Power Spot.
❒ VAASTU decorating examples
Environment creation to evolve life
Now, please enjoy ' Kūkan Healing ' information of HIMALAYAHOUSE.
Welcome to Sangen-jaya Gallery!!
' Kūkan Healing ' VAASTU ― Sangen-jaya Gallery
'
Kūkan
Healing ' renovation of HIMALAYAHOUSE has brought environmental breath into an old house built in 1960's.
In the Gallery, Indian Feng shui Art,
HOMAPANEL
, created by the artist of HIMALAYAHOUSE, lovely miniature houses from many different countries and vintage items are regularly exhibited.
Please enjoy our stylish space that is reminiscent of
Mid-century
style.
Please come and visit the urban oasis, '
Kūkan
Healing ' Gallery.
Sometimes you can enjoy exhibition of collector's items.
Currently, we make it a priority to show customers with reservations.
Please check this site or Facebook for public open days.(Open occasionally)
HIMALAYAHOUSE
5-38-10 Kamiuma, Setagaya Ward, Tokyo, Japan
HIMALAYAHOUSE aims at the supreme environmental design.
© 2010 LAKSHMISTYLE Ltd.