YOGA
PRODUCT DESIGN
ENVIRONMENTAL REBIRTH = UNITY BY VEDA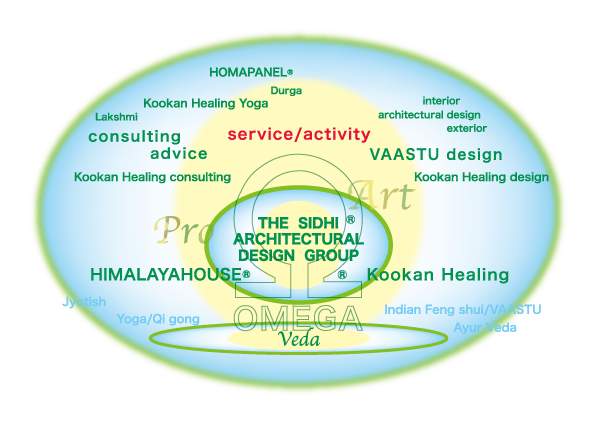 Thank you very much for having interest in ' Kūkan Healing ' originated in HIMALAYAHOUSE® .
' Kūkan Healing ' of HIMALAYAHOUSE® is the generic term for VAASTU(VASTU)*1 Brand Environmental Rebirth*2.
Our main service is product design ―
we design matters and things under the name of Ω / OMEGA® which is consulting and advice using Veda*3(unified science)such as the origin of environmental architecture Indian Feng shui VAASTU, yoga and Qigong.
It is also meant to be like therapy. Above all, we think that environment creation including relaxation as art by Art HOMAPANEL®︎ is the essence of ' Kūkan Healing '・Ω for the purpose of growth of consciousness.
We offer expert opinion and information for your question. Therefore, we offer the comfort through the knowledge and propose highly specialized environmental design and coordination(consciousness, architecture, interior, exterior, and so on)as ' Kūkan Healing ' of HIMALAYAHOUSE brand.
The details are as follows: About consulting to improve the purity of environment and consciousness(including subtle bodies in the Vedic scriptures)which is our longstanding desire.



We propose to take full advantage of the above.
We would like to support pure environment creation suitable for your creative growth, along with healing of consciousness and body by upgrading your environment.
Environmental Rebirth which is the longstanding desire of ' Kūkan Healing '
will develop enhancement of life energy and expansion of consciousness.
Introduction(existence)of ' Kūkan Healing '
will grow the supreme yoga = unified science in your environment and consciousness.
Shall we establish the one and only beauty in unity?
Please introduce ' Kūkan Healing ' of HIMALAYAHOUSE which exists as the VAASTU Brand
- creation of public natures.
We are aiming to originate creation as more dramatic manifestation through everyday exploration of VAASTU.

Left
HOMAPANEL®︎
Durga® 6
Creation theme
Activating the field related to Space(one of the five great elements), Indra and Jupiter
Image of protecting and establishing intellect, space, justice and knowledge
Price
JPY88,000

(consumption tax included)

Reference

Proposal for Durga® 6 vr.6.2 PDF

(Under Construction)
Right
HOMAPANEL®︎
Mahabharata®
Creation theme
Karma: image of offsetting bad karma that hinders your evolution and negative past deeds
Price
JPY88,000

(consumption tax included)

Reference

Proposal for Mahabharata® vr.3.7 PDF

(Under Construction)

Note:The image is partially processed.




HIMALAYAHOUSE VAASTU
' Kūkan Healing ' designed beauty salon
Coordinated and designed by THE SIDHI ARCHITECTURAL DESIGN GROUP® From 1999
This beauty salon is in corporation with HIMALAYAHOUSE also as a ' Kūkan Healing ' gallery.